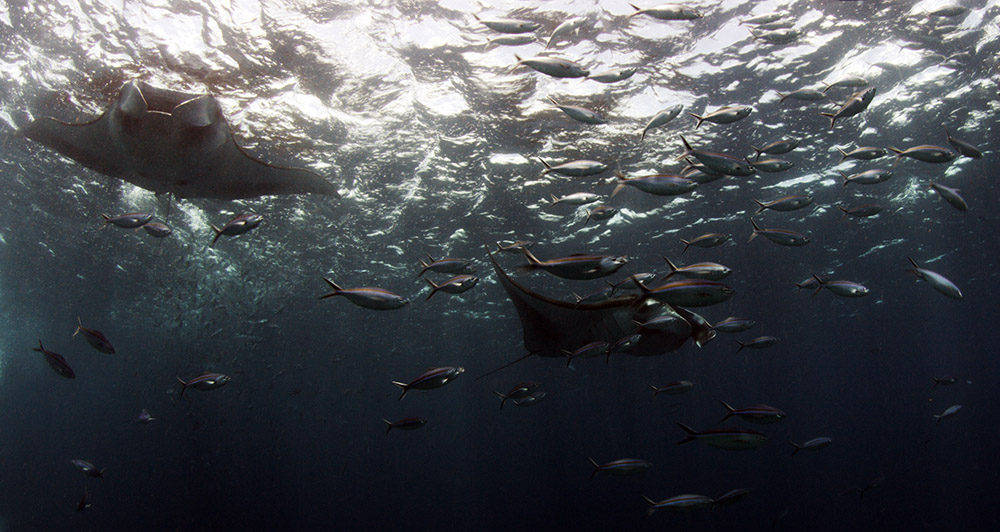 3 January – 21 January 2014
This unforgettable trip with the amazing Tom Campbell and Beth Davidow was just "meant to be". Russ and Barbara van Aardt had been included in the initial emailed invitation to join this trip via a good friend (Thank you Rob Barker!!) who kept encouraging them to experience the fabulous Seven Seas liveaboard.
Initially Russ and Barbara said no to the offer but were approached again, this time by Beth Davidow, a few months before the trip, when there was an unexpected cancellation and they were able to fill the spot. The trip was organised by Tom and Beth, and they had the positively energized Dr. Andrea Marshall (Manta Queen) from the Marine Megafauna Foundation on the boat as they were filming some footage for Ocean Gems episodes.
This was a life altering trip. It was absolutely MAGICAL......Tom and Beth shared their knowledge and expertise and Russ and Barbara are forever in their debt as a result! This was the trip that resulted in the van Aardt's upgrading from HD to production quality 4K.
Tom gave informative and awe-inspiring presentations and talks. Endless notes were made on how to improve our filming. He answered all their questions and they can clearly see how his guidance has positively impacted their footage. Russ and Barbara added that....."We feel very humbled to have met such worldly people, willing to share information and give guidance selflessly!"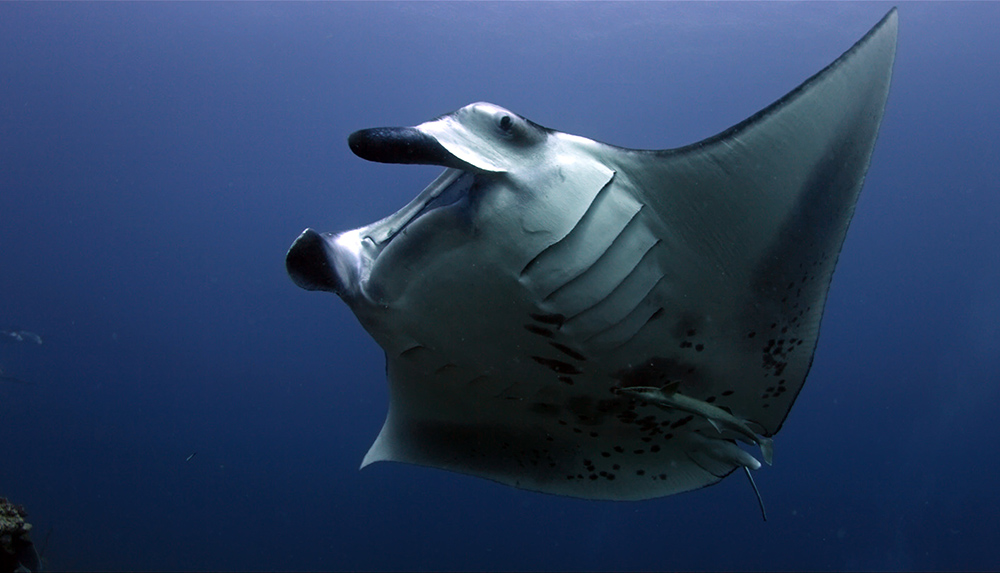 Andrea shared her love for the Ocean and Mantas, and Russ and Barbara were privileged to have been part of the team that identified 63 Mantas in a ram feeding frenzy. Andrea's presentation was very touching and powerful and she managed to persuade all on board, to stay another day in the area, as she knew that this frenzy was going to reoccur the following day. So the liveaboard stayed in the area and all aboard were thrilled to share the water for a second day with these Magical Reef Mantas. Russ and Barbara wish Andrea every success for her huge efforts on conservation . Here is a link to her Trip report.
The Seven Seas liveaboard crew are like a happy family ."They all work together making every effort to ensure that your every need is seen to. From the exceptional Crew and Cruise Directors Karl and Linda, to Ayu and Chandra in the office, their happy enthusiasm is such a pleasure to be around and we look forward to seeing our Seven Seas Family again." Barbara said.
The diving was exceptional and the photographic opportunities endless!
This is a personal blog. Any views or opinions represented in this blog are personal and belong solely to the blog owner and do not represent those of people, institutions or organizations that the owner may or may not be associated with in professional or personal capacity, unless explicitly stated. Any views or opinions are not intended to malign any religion, ethnic group, club, organization, company, or individual.
All content provided on this blog is for informational purposes only. The owner of this blog makes no representations as to the accuracy or completeness of any information on this site or found by following any link on this site. The owner will not be liable for any errors or omissions in this information nor for the availability of this information. The owner will not be liable for any losses, injuries, or damages from the display or use of this information.